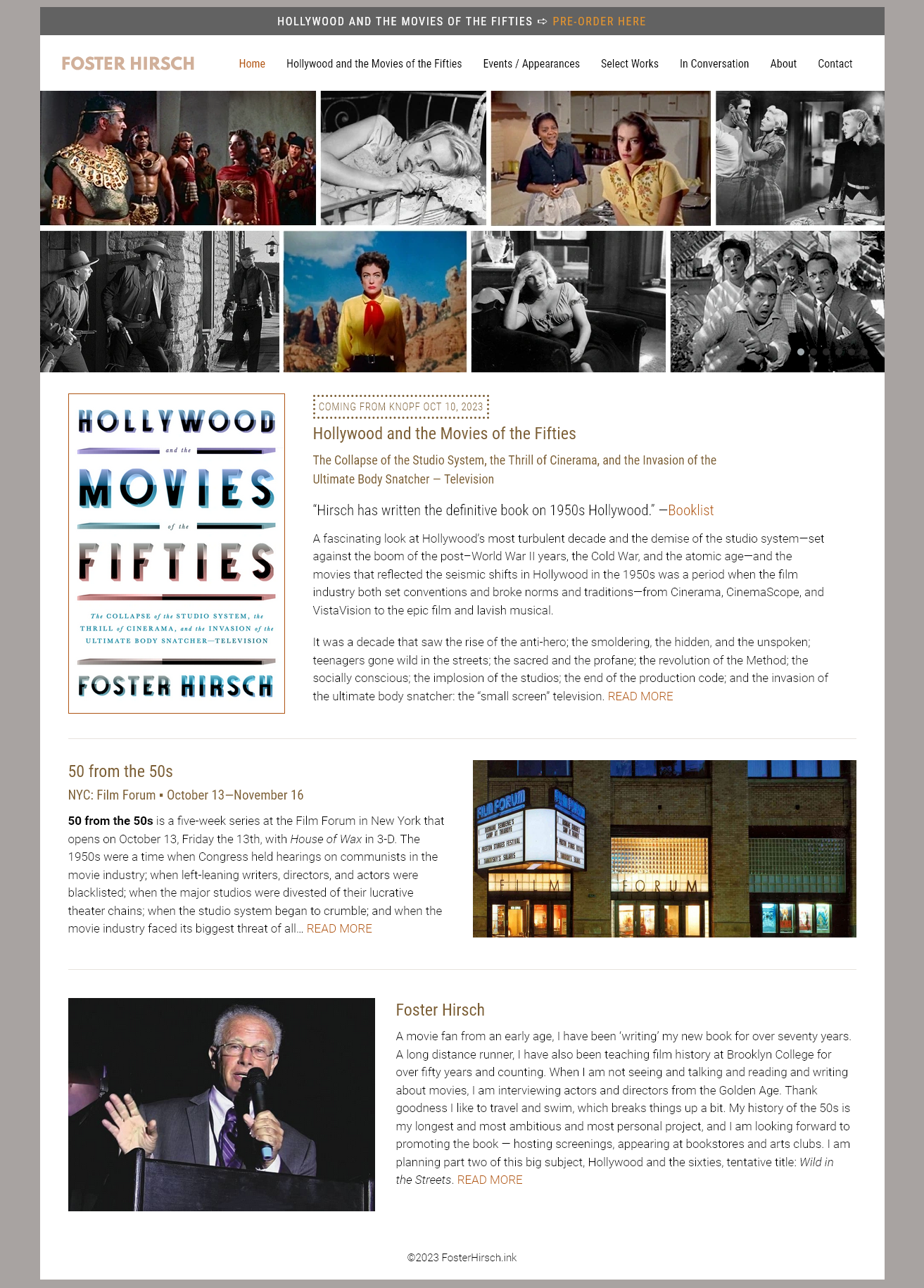 Screenshot 2023-09-21 at 01-18-21 Home – FOSTER HIRSCH
Screenshot 2023-09-21 at 01-19-28 NOIR CITY Film Festival – The Film Noir Foundation

Screenshot 2023-09-21 at 01-20-30 Film Noir Foundation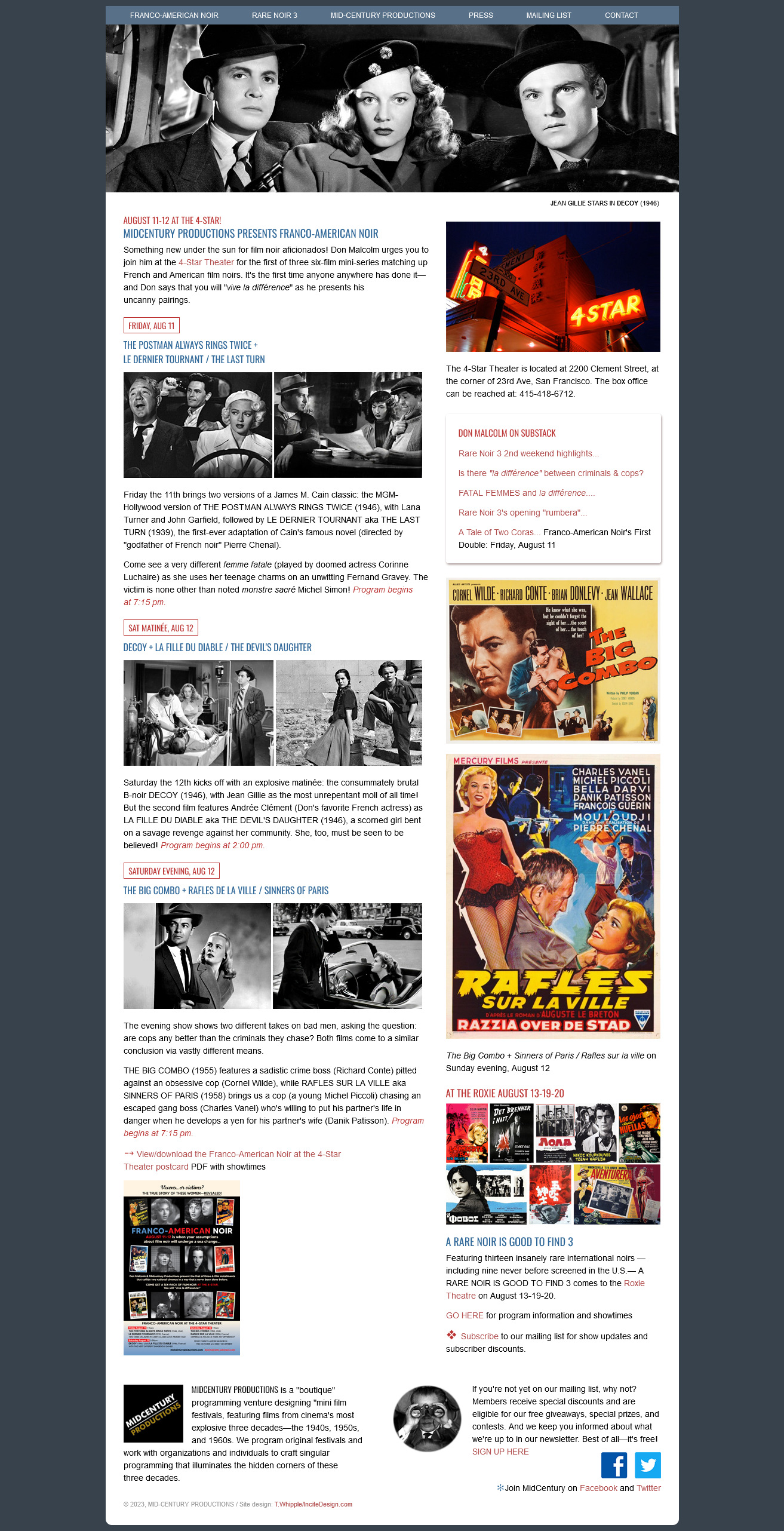 Screenshot 2023-09-21 at 01-18-49 Midcentury Productions
The website of professor at Brooklyn College, film historian, and interviewer Foster Hirsch features his latest book, Hollywood and the Movies of the Fifties: The Collapse of the Studio System, the Thrill of Cinerama, and the Invasion of the Ultimate Body Snatcher — Television. Coming from Alfred Knopf on October 10, 2023, the book has called by Booklist "the definitive book on 1950s Hollywood." FosterHirsch.ink features excerpts, a selection of other books from the author, video interviews, and upcoming events.
The Film Noir Foundation is a non-profit that is a resource for noir film aficionados, film and festival news, monthly tv listings, online donation, and an expanding collection of exclusive video interviews in its Video Archives area streamed from its YouTube channel that's generated more than a million views. The site provides essential outreach for funding the Foundation's successful preservation efforts, integrating PayPal and AWeber mailing list integration, and supporting the Foundation's subscriber-based quarterly NOIR CITY Magazine.
With its mission to rescue and restore classic noir films, the Film Noir Foundation annually presents NOIR CITY, one of the Bay Area's most popular film festivals. NOIR CITY provides access to its annual festival program, ticketing, press reviews, archived coverage of past festivals, as well as an online store and PayPal shopping cart.
Mid-Century Productions programs "mini film festivals" that have screened rarely seen international films from cinema's most explosive three decades—the 1940s, 1950s, and 1960s. San Francisco Chronicle film critic Mick LaSalle has extolled Mid-Century's screenings of French film noir at the Roxie Theatre over the past six years—calling its annual festival, The French Had a Name for It, "a total game changer in terms of how noir, both French and American, is perceived."
Historic Preservation Consulting provides a full range of architectural history and preservation consulting services in the San Francisco Bay Area.
The Friends of 1800 has focused on the preservation of significant historical buildings, theaters, and the architectural heritage of San Francisco. Their website documents the group's advocacy work beginning in 1997 to save the Fallon Building at 1800 Market St, since incorporated into San Francisco's LGBTQ Center. The site provides a list of San Francisco Landmarks and Historic Districts, and covers San Francisco's embattled movie theaters past and present.
Translation services, published and unpublished literary fiction by Marc Svetov and Petra Schreyer in German and English, including writings on film noir.
A San Francisco-based storefront travel agency in its fifth decade that specializes in custom tours and packages for individual and group travelers.
Founder of the Film Noir Foundation and host of TCM's Noir Alley, Eddie Muller is the author of numerous books on film noir. Muller programs and presents the Film Noir Foundation's film festival, Noir City, in a number of cities across the U.S.
A searchable community directory of nonprofit organizations serving the Japanese-American communities throughout North America. The site implements Mosets Tree's custom directory component software for Joomla CMS.
California Japantowns represents the first statewide project to document historic resources from 43 pre-World War II Japantowns and existing Japanese American communities. Sponsored by the California Japanese American Community Leadership Council, the site includes Preserving California Japantowns' extensive searchable database of more than 3,000 locations.